This is the 17th and last installment of The Pragati Quiz, our weekly dose of stimulation for readers who are curious about the world.
All good things, they say, must come to an end. In this concluding episode of The Pragati Quiz, we look at endings — some glorious, others less so. And thank you, dear reader, for all the encouragement and appreciation. It has been a pleasure.
Questions
(Answers at the bottom.)
Following the unilateral decision of Mahatma Gandhi on 12 February 1922, a bitterly disappointed Jawaharlal Nehru wrote in his diary in jail –
"This is the way the world ends
 This is the way the world ends
 This is the way the world ends
 Not with a bang but a whimper."
What had happened, and what was Nehru quoting from?
When Hercules found that he had been poisoned by Nessus' shirt that was burning his skin off him, he resolved to die and built his own funeral pyre. But he couldn't get anyone to light it for him, and had to bribe Philoctetes with his bow and arrows to do the job. The pyre burnt so high that the spot became very hot and was given a name meaning "hot gates."Name the place where Hercules died, celebrated in later years in poetry, song and film as the site of a legendary last stand.
In terms of literary endings, what connects S E Hinton's The Outsiders and Alistair MacLean's The Dark Crusader? In a smaller way, Vladimir Nabokov's celebrated novel Lolita belongs in this list too.
All these three cartoons pay tribute to which abrupt cut-to-black ending of 10 June 2007 that prompted howls of protest worldwide?
Watch this long but interesting clip, and explain what is going on – with a story.
Its fame began in 2010 on TV when its creation was watched by 3.9 million people, making Adam Liaw an instant celebrity. After the show ended, the phone at Quay rang non-stop for five days. The reaction to the news of its final departure in March last year was akin to the death of a much-loved celebrity. More than 500,000 have been served in over 20 different flavours, and Quay was booked out fully the moment the news of its demise appeared in the press.What are we talking about?
The term was coined by Manchester Evening News journalist Tom Jackson in 1951. What distinguished them was their average age – just 21 and 22 respectively in their triumphant 1955-56 and 1956-57 outings. Their promise was tragically cut short by the cruelest of endings in February 1958.Who and what are we talking about?
About their unique collaboration, one of the three said, "Someone once described us as a three-headed god. Maybe they should have called us a three-headed monster!" Rather appropriately, their long "wandering" that lasted nearly 50 years ended with The City Of Your Final Destination in 2009. Perhaps their greatest achievement was to have created a distinctive style and visual idiom at a fraction of the budgets of larger competitors. Who are we talking about?
He was always interested in number series, and is remembered largely for them. This passion intersected in a bizarre way with his death. Legend has it that in old age, he figured out that he was sleeping 15 minutes extra every night. He then accurately predicted using number series that he would die on the day that the extra 15 minutes a night accumulated to 24 hours, i.e. a full day. That day was November 27, 1754 — he died in London and was buried at St. Martin-in-the-Fields. Who?
This haunting song from the 1974 film Praan Jaye Par Vachan Na Jaye marks the end of a remarkable musical relationship between a singer and a composer. The song won the singer the Filmfare Award for best female playback artist that year. However, as the lyrics portray, the breakup was painful — so much so that this award-winning song was omitted from the final soundtrack by the composer, the only time this has happened. Name the singer and the composer.
This is Tel Megiddo, a tell (a hill created by many generations of people living and rebuilding on the same spot) in northern Israel on which ancient forts were built to guard the Via Maris, an ancient trade route linking Egypt with Syria and Mesopotamia. It was the location of various ancient battles, including one in the 15th century BCE and one in 609 BCE. What revelation is believed to have been derived from this ancient city?
Fill in the blanks in the concluding line from one of literature's great tragedies —
"Go hence, to have more talk of these sad things; 
Some shall be pardon'd, and some punished:
For never was a story of more woe
Than this of ______ and her _____."
In 1977, he became the first person in almost ten years to be executed in the United States, being executed by firing squad after his repeated demands for the same. His life and execution were the subject of the 1979 novel The Executioner's Song by Norman Mailer, later made into a film. Name him. Which famous slogan was inspired by his last words?
This wooden cross was erected in January 1913 as a permanent memorial on Observation Hill, overlooking Hut Point. It is inscribed with the names of the lost party and Tennyson's line from his poem Ulysses: "To strive, to seek, to find, and not to yield." The actual tent at Hut Point with the cairn built on it is now encased in the Ross Ice Shelf and will probably reach the Ross Sea in 275 years. Which epic saga of bravery and heartbreak has its ending marked thus?
It is the site of one of history's greatest last stands — a small communication post between the forts Gulistan and Lockhart in Khyber Pakhtunkhwa. On 12 September 1897, 21 Jat Sikh soldiers of the 36th Sikhs fought to the death against a force of 6,000 to 10,000 Afghan tribesmen. All of them were posthumously awarded the Indian Order of Merit, at that time the highest gallantry award which an Indian soldier could receive. (The corresponding gallantry award was the Victoria Cross.) Name the location, which has been in the news recently.
The loss on January 5, 1971 in Martin, Tennessee, ended a 2,495-game winning streak. While performing to entertain the crowd, they lost track of the game and the score, and found themselves down 12 with two minutes left to go — they rallied hard but could not recover and lost by 1. When the final buzzer sounded, the crowd was dumbfounded and disappointed, and some children cried in the stands. A winning team member described the fans' reaction as – "They looked at us like we killed Santa Claus." Who had lost and to whom?
This great American-born ballerina nicknamed the "Mother of Dance" pioneered natural movements in ballet and often danced barefoot. She had a tragic life — her two children Deirdre and Patrick both drowned in the care of their nanny in 1913 when their car went into the Seine; and her marriage with the famous Russian poet Sergei Yesenin was over before his suicide.On the night of 14 September 1927, in Nice, she was a passenger in a low-slung Italian sports car, and wore a long, flowing, hand-painted silk scarf. As they departed, she said, "Farewell, my friends. I go to glory!" Sadly, her scarf got entangled around the open-spoked wheels and rear axle, pulling her from the open car and breaking her neck. Name her.
In terms of endings, what connects the following films – Sholay (1975), Blade Runner (1982), Fatal Attraction (1987), The French Lieutenant's Woman (1981) and Clue (1985)? Not an exhaustive list, though the last two are fairly unique in different ways, even in this group.
Richard Wagner's mammoth Ring Cycle of four operas has a total playing time of about 15 hours. The last part, Götterdämmerung (Twilight of the Gods) ends with the destruction of the world —  including Valhalla, the hall of the Gods. The finale of the whole Ring Cycle begins with the farewell scene of the valkyrie Brünnhilde, which lasts for almost twenty minutes. The role of Brünnhilde is a demanding soprano singing part, typically essayed by buxom divas, such as Amalie Materna in 1876 shown here. Which common phrase or proverb is believed to have originated from this?
Which phrase or ritual chant that announces the formal ending of an Upanishad and ends the films shown, is also the line that follows a phrase meaning "Give. Sympathise. Control." in a famous 1922 poem?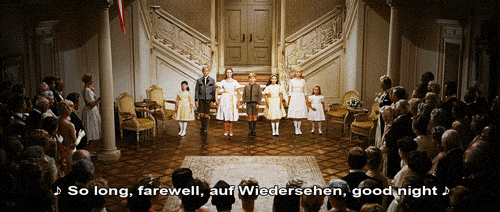 Answers
Gandhiji withdrew the Non-Cooperation Movement after the events of 5 February at Chauri Chaura. Nehru was quoting from T S Eliot's poem Hollow Men.
Thermopylae, the narrow defile where Leonidas and his band of 300 Spartans held off Xerxes' Persian army in 480 BCE.
Both books begin and end with the same line. Lolita begins and ends with the same word: Lolita."When I stepped out into the bright sunlight from the darkness of the movie house, I had only two things on my mind: Paul Newman and a ride home." S E Hinton: The Outsiders"A small dusty man in a small dusty room." — Alistair MacLean: The Dark Crusader
The Sopranos ended its seven-year run on HBO with a smash cut to black, leaving the ending ambiguous.
This is Joseph Haydn's 45th Symphony, appropriately called the "Farewell" Symphony.Haydn's patron Prince Esterházy was resident, together with all his musicians and retinue, at his summer palace at Eszterháza in rural Hungary. The stay there had been longer than expected, and most of the musicians wanted to return to their families back at home. The diplomatic Haydn put his request into the music of the symphony: during the final adagio each musician stops playing, snuffs out the candle on his music stand, and leaves in turn. Esterházy took the hint.
Peter Gilmore's iconic dessert, the Snow Egg, which made Masterchef Australia history.
The Busby Babes, Matt Busby's young and largely homegrown Manchester United team who were league champions in both those years. Eight of them died in the Munich air disaster in Feb 1958, while two more survived but never played again.
Merchant-Ivory Productions – specifically, the collaboration between Ismail Merchant, James Ivory and Ruth Prawer Jhabvala. 
Abraham de Moivre, best known for the eponymous theorem shown below.
Asha Bhosle and O P Nayyar never worked together again after this.
Armageddon, the final battle at the end of the world, as prophesied in the Biblical Book of Revelation.
"Than this of Juliet and her Romeo."These are the concluding lines of Shakespeare's Romeo and Juliet.
Gary Gilmore – his last words were "Let's Do It", which inspired Nike's tagline "Just Do It."
The doomed Antarctic expedition led by Robert Falcon Scott.
Saragarhi. The battle is the subject of the recently released Hindi film Kesari.
The Harlem Globetrotters lost to their perennial opponents, the Washington Generals.
Isadora Duncan.
Films with alternate or multiple endings.Sholay was made with a different ending where Thakur kills Gabbar, but it had to be changed because of the Emergency. Fatal Attraction and Blade Runner both had feel-good endings tagged on at the last moment, though there are Director's Cut options available (with the original endings) now. The French Lieutenant's Woman has two endings – the films ends with 'The End' appearing on screen, but resumes to show an alternate ending. Clue had three different endings – audiences coming to the theatre never knew which ending they would be shown.
"It ain't over till the fat lady sings." Literally, the world (and the opera) ends only after Brünnhilde has sung.
Shantih shantih shantih. The Waste Land by T S Eliot ends with the lines:
"Datta. Dayadhvam. Damyata.
Shantih shantih shantih"